ARENA
€ 299.00
Includes 59.8 € tax
Full-surface mouse pad desk with an extraordinary cable management system and plenty of space.
Description
Top Class
The Arena is rated one of the top gaming style desks on the market like 'Best Dedicated Gaming Computer Desk' by IGN.com. Our Swedish designers created it to optimize your gaming and computing experience with utilizable features, sturdy long lasting materials, and simple aesthetics.
Features
Full-surface mouse pad
Mouse pad is water-resistant and machine washable
Large surface at 160x82cm/ 5'3"x2'8.25"
3 Cut outs for cable management and monitor attachment
Cable management basket tightly fit under the desk
Sturdy steel legs for long lasting stability
Specifications
Specifications
Desk Top Load Capacity
80 kg (evenly distributed)
176 lbs (evenly distributed)
Number of boxes
2
Box 1 Gross Weight
27.6 kg
61 lbs
Box 1 Dimension
87.5 x 49 x 28.5 cm
34.5 x 19.3 x 11.2 inches
Box 2 Gross Weight
19.35 kg
43 lbs
Box 2 Dimension
87.5 x 66 x 12.5 cm
34.4 x 26 x 5 inches
Desk Netto Weight
39 kg
85.5 lbs
Measurements
Reviews
Top 5 in "5 Must- Have Gaming Desks And Tables For Gamers" – Forbes
"Best Dedicated Gaming Computer Desk" – IGN
"I have owned several desks in my day, and the Arena is the best yet." Golden Hardware Award – MMORPG.com
Huge Full-Surface Mousepad
The entire surface of the Arena desk is covered with an interchangeable microfiber mousepad on top of a tough MDF board. The mousepad is specially designed to custom fit the curved 14 sq. ft. (1.31 sq. meters) Arena desk with an anti-slip rubber bottom to ensure that it stays in place.
Water-resistant & Easy Clean
The full-surface mousepad is also water resistant, making clean up easy and simple. If you wish to have a more thorough cleaning, just throw in your machine washer at a low temperature & air dry afterwards.
Cable Management
The Arena has a 3 cut outs on top of the surface that lead to a mesh basket that tightly held against the underside of the desk top for cable management. This system is easier to manage, out of the way, and looks great.
Monitor Attachment
The 3 cut outs are not only for cable management but for attaching monitors as well. The 5'3" (160cm) wide desk is spacious enough to hold 3 large sized monitors.
Height Adjustable
The Arena is held up with sturdy steel legs that are height adjustable up to 10cm (3.9inches). Use the allen key to straighten the legs and add extra stability. There are also 4 balance adjustment knobs below the legs to prevent the desk from wobbling so it can adapt to your personal environment.
Assembly Guide
Having trouble putting your desk together? Check out our detailed video guide.
Or do you prefer a PDF guide? Don't worry we got you covered!
See what owners of this product think.
Or do you already own the product? Then why not write your own review!
Customer Reviews
02/08/2020
Evelyne W.
AT
Good but a bit wobbly.
The table is good but a bit wobbly. The size is great.
02/08/2020
Dan B.
GB
30/07/2020
Massimo G.
Germany
Pretty nice desk
The packaging was rather roughed up but the inside was totally fine and safe cuz of the packaging inside. The desk is pretty solid and stable. It isn't wobbly like a few people mentioned. Maybe they should adjust the hight of the desks feet. The only parts that kinda annoyed me were some scratches cuz of production mistakes and the missing warning to not screw the screws inside the legs for the hight adjustment in too much cuz of them falling into the leg. It was simple to get it out because of the table being made out of 3 plate partes instead of 1. And the emblems aren't glued well enough onto the legs which is kinda sad but not bothering too much yet. All in all a rly decent desk and the mousepad is hella nice. 4/5.
18/07/2020
YOHANN P.
FR
Parfait mais...
Le bureau est vraiment super, le montage est assez délicat mais il faut simplement prendre son temps. Le tapis de souris (nettoyable) sur la totalité de la surface est véritablement génial ! Par contre le système pour régler la hauteur des pieds n'est pas vraiment au top. De plus ça raye la peinture avec la pression des vis de maintien. Je ne retire pas d'étoile mais je tenais à signaler ce petit défaut à mon goût. Mise à part ça je recommande ce produit :)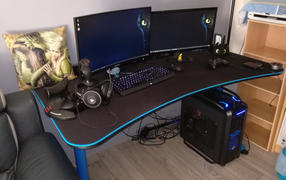 15/07/2020
Susanne S.
DE