ARENA
€ 299.00
Includes 59.8 € tax
Full-surface mouse pad desk with an extraordinary cable management system and plenty of space.
Description
Top Class
The Arena is rated one of the top gaming style desks on the market like 'Best Dedicated Gaming Computer Desk' by IGN.com. Our Swedish designers created it to optimize your gaming and computing experience with utilizable features, sturdy long lasting materials, and simple aesthetics.
Features
Full-surface mouse pad
Mouse pad is water-resistant and machine washable
Large surface at 160x82cm/ 5'3"x2'8.25"
3 Cut outs for cable management and monitor attachment
Cable management basket tightly fit under the desk
Sturdy steel legs for long lasting stability
Specifications
Specifications
Desk Top Load Capacity
80 kg (evenly distributed)
176 lbs (evenly distributed)
Number of boxes
2
Box 1 Gross Weight
27.6 kg
61 lbs
Box 1 Dimension
87.5 x 49 x 28.5 cm
34.5 x 19.3 x 11.2 inches
Box 2 Gross Weight
19.35 kg
43 lbs
Box 2 Dimension
87.5 x 66 x 12.5 cm
34.4 x 26 x 5 inches
Desk Netto Weight
39 kg
85.5 lbs
Measurements
Reviews
Top 5 in "5 Must- Have Gaming Desks And Tables For Gamers" – Forbes
"Best Dedicated Gaming Computer Desk" – IGN
"I have owned several desks in my day, and the Arena is the best yet." Golden Hardware Award – MMORPG.com
Huge Full-Surface Mousepad
The entire surface of the Arena desk is covered with an interchangeable microfiber mousepad on top of a tough MDF board. The mousepad is specially designed to custom fit the curved 14 sq. ft. (1.31 sq. meters) Arena desk with an anti-slip rubber bottom to ensure that it stays in place.
Water-resistant & Easy Clean
The full-surface mousepad is also water resistant, making clean up easy and simple. If you wish to have a more thorough cleaning, just throw in your machine washer at a low temperature & air dry afterwards.
Cable Management
The Arena has a 3 cut outs on top of the surface that lead to a mesh basket that tightly held against the underside of the desk top for cable management. This system is easier to manage, out of the way, and looks great.
Monitor Attachment
The 3 cut outs are not only for cable management but for attaching monitors as well. The 5'3" (160cm) wide desk is spacious enough to hold 3 large sized monitors.
Height Adjustable
The Arena is held up with sturdy steel legs that are height adjustable up to 10cm (3.9inches). Use the allen key to straighten the legs and add extra stability. There are also 4 balance adjustment knobs below the legs to prevent the desk from wobbling so it can adapt to your personal environment.
Assembly Guide
Having trouble putting your desk together? Check out our detailed video guide.
Or do you prefer a PDF guide? Don't worry we got you covered!
See what owners of this product think.
Or do you already own the product? Then why not write your own review!
Customer Reviews
13/10/2020
Luca L.
IT
Gamer desk
Absolutely perfect! Can put on my pc and two 32" screen and i still have place Recommended for all videogames players
13/10/2020
Raffaele P.
GB
Arena pure black
The table looks awesome, and is exactly as I had hoped. In particular the cable management options are superb. I use this table for work (deep enough to have a monitor, keyboard, and writing pad), but considering buying one for my son. It arrived early, relative to what was advertised on the web site, and the delivery process was executed flawlessly.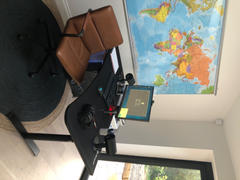 08/10/2020
Alex L.
RO
Awful, unstable and cheap looking
The whole desk is very unstable. The whole thing looks very fragile and also looks very cheap with the full cover mousepad. Even though I got the full black version it still has a big Arozzi logo on the top right corner of the table. I hate it. if it wouldn't be so heavy I would throw it to the dumpster. Good thing I didn't get a chair from Arozzi.
08/10/2020
Martin H.
IE
Computer Desk
Excellent product great quality will buy from Arozzi again
02/10/2020
Nicolas F.
FR