VERNAZZA
€ 329.00
Includes 65.8 € tax
Top-Tier ergonomic chair with a multitude of functions including premium casters & 3D armrests.
Description
Top Class
The Veranzza is one of Arozzi's top class chairs with all the best features incorporated into one comfy chair. From the super soft neck support pillow to the ergonomic design the Vernazza will ensure long hours of computing will be in max comfort.
Features
Soft neck support pillow with unique design
3-Dimensional Armrests
Spacious seat and backrest
Large premium casters
Pro locking tilt mechanism
Pleather material for easy cleaning
Adjustable height gas spring that supports up to 145kg/ 320 lbs
Specifications
Specifications
Weight Capacity
145 kg
320 lbs
Netto Weight
26 kg
57 lbs
Gross Weight
28.5 kg
62 lbs
Box Dimension
86 x 69 x 35 cm
33.9 x 27.2 x 13.8 inches
Seat foam density
70 kg/m³
Backrest foam density
65 kg/m³
Backrest maximum tilt angle
165 degrees
Measurements
Ergonomic Design
The Vernazza is developed with Arozzi's signature ergonomic design making it easier on your back and posture for longer periods of use. It is equipped with 2 soft adjustable pillows: a lumbar pillow to support your back & a headrest pillow to support your neck and head.
Multidimensional Armrests
The padded armrests are not only able move up & down. They can slide forwards & backwards, and rotate in & out. For those who want to find the best position for the armrests this 3-dimensional style is our most alterable.
Go Big
The Vernazza is one of Arozzi's bigger pleather chairs with a weight capacity of 145kg (320 lbs.) and a spacious hugging backrest. It also has an extra wide and tall seat ideal for those who are big & tall or just enjoy the extra space.
Steep Recline
Working hard and need a rest? Recline the backrest at 4° lockable increments that goes up to 165°. Find the right angle for you that compliments your body and posture.
Rocking Function
The chair can be locked in a fixed upright position or can be unlocked to freely tilt back and forth in a rocking motion up to 12°. Use the adjustment wheel to set the desired resistance.
Locking Tilt Function
Like your chair leaned back a few degrees? The locking tilt function allows you to not only rock back the seat & backrest but also lock it in the position that fits you.
Pleather Material
The soft pleather is built to last and is easy to clean. The frame is padded with a snug foam that has a density of 70 kg/m³ for the seat and 65 kg/m³ for the backrest.
See what owners of this product think.
Or do you already own the product? Then why not write your own review!
Customer Reviews
13/10/2020
Sören F.
SE
Great Chair
I love the chairs from Arozzi. They have very high quality and looks very good. Also the support from Arozzi is top quality. I had Verona V2 before and It was also very good. I think Vernezza is an upgrade from that. I like the design a bit better also its more comfortable. The neck pillow is a different design. I do have some problem with that, as it sitting to high. Its more a head pillow now. I like the older design better. I guess if you are taller(over 180cm) it could work. I wish it had more adjustment. I like the tilt function on the chair and it has a more advanced mechanism then the normal one. It also make so you can have the chair higher. That was a big problem for me with Verona V2, as i could not adjust the height to match my table. The armrest is also good as you can slide them in any way you want, but I think the shape on the top and softness is better on the Verona V2. This feels more like plastic, even if it padded a bit. They are just to hard. Overall the Pleather material Arozzi use is top quality. Just make sure you treat it like it shall be done and it will hold for years. Baby oil or any other leather treatmen works good. I seen other brand of chair that the fabric tear itself after some useage, even if they cost a lot more. I did choose a white chair, as I already has a red one and the black is to "normal". I wish they had more colors to choose from though. Yes I do recommend this chair as its just stunning and very high quality.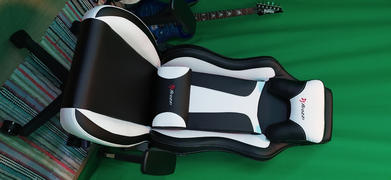 10/09/2020
Henrik
Sweden
Phenomenal customer service!
Overall very happy with this chair. Comfortable and great back support. I had an issue with the wheel base, but customer service answered me within minutes and sent new parts less than an hour after my email. Pleasantly surprised that there are companies that provides this level of customer service. Would definitely recommend this char and Arozzi to anyone looking for a new gaming char! 5/5 toasters! (those who understand will understand 😅)
02/09/2020
Kamal E.
HU
I like it!
The price is a little bit high compared to similar chairs in the market but It is very comfortable and I love it.
25/08/2020
Howak
France
Le meilleur siège gaming
Un excellent siège gaming très ergonomique et confortable. Un problème est survenue sur l'élévateur a gaz mais le service client irréprochable de chez Arozzi a sue régler mon problème en moins d'une heure. Très rares de nos jours. Je recommande cette marque.
13/08/2020
Marko V.
HR
Great chair
Great chair,its really comfortable. Pretty adjustable I would recommend most definitely!