MILANO
€ 179.00
Incluye 35.8 € impuesto
Silla gaming de iniciación con gruesos reposabrazos acolchados y una almohada de apoyo para la zona lumbar.
Descripción
Así se Hace el Trabajo
La Milano es una de las sillas más esenciales de Arozzi, que incorpora todo lo imprescindible de una silla de oficina para que puedas trabajar o jugar durante largas horas en comodidad.
Características
Reposabrazos extra acolchados
Dos almohadas de apoyo para el cuello y la espalda
Construcción ligera para facilitar el movimiento
Material de cuero sintético para una fácil limpieza
Asiento basculante que puede bloquearse en posición vertical
Resorte de gas de altura ajustable que soporta hasta 95kg
Presupuesto
Specifications
Weight Capacity
95 kg
190 lbs
Netto Weight
17.2 kg
38 lbs
Gross Weight
20.5 kg
45 lbs
Box Dimension
86 x 65 x 32 cm
32.7 x 25.6 x 12.6 inches
Seat foam density
50 kg/m³
Backrest foam density
40 kg/m³
Mediciones
Almohada de Apoyo
La almohada lumbar es ajustable para adaptarse al usuario. Simplemente tira de las correas hacia arriba o hacia abajo para ajustar la almohada a tu posición deseada.
Reposabrazos Acolchados y Anchos
Los reposabrazos tienen un acolchado adicional para una sujeción suave de los antebrazos y los codos cuando te estés relajando o trabajando duro. El acolchado también está recubierto de una suave piel para facilitar su limpieza.
Función de Balanceo
La silla puede bloquearse en posición vertical fija o desbloquearse para poder inclinarse libremente hacia delante y hacia atrás con un movimiento basculante. Esto es ideal para aquellos que están sentados durante largas horas y quieren un poco de movimiento libre o simplemente disfrutar de la sensación de balanceo.
Recubrimiento de Cuero Sintético
El suave cuero sintético está hecho para durar y es fácil de limpiar. El armazón de Milano está acolchado con una espuma flexible que tiene una densidad de 30 kg/m³ para el asiento y 25 kg/m³ para el respaldo, de modo que podrás hundirte en el asiento cómodamente.
See what owners of this product think.
Or do you already own the product? Then why not write your own review!
Customer Reviews
12/07/2020
charlie d.
IE
Great Chair 🪑
It's really comfy and and it's great for long time gaming my only complaint is that my left armrest cushion was very soft from the inside and my ocd was going mad
07/07/2020
Maria K.
IT
Great chair
Conftable chair also for smaller people. love the padded armrests. Quick and easy to asseble, all seams are done well, no reclamation whatsoever at this point. Only the smell is quite pungent for the first week,.
03/07/2020
Alexandru-Gabriel R.
RO
Second chair was really good
I had issues with the first chair and I gave Arozzi another shot using an offer provided by them and I was very happy with the second chair, all the issues from the first one were gone. I stand by what I wrote in my other review, the chair is really good and comfortable, it's solid and providing an awesome experience, especially when you sit more than a couple of hours. No back pain, you sit straight and comfy, the lombar pillow is good too, totally recommend! Thanks again to the Arozzi support for responding fast and offering a fair option for my initial issues :). 10/10
11/06/2020
Christopher S.
GB
Comfort and Style
I am very pleased with the chair. I use it in my home office where I sit for up to 10 hours a day so comfort is a must. The adjustable lumbar cushion is superb and I think the chair has improved my overall posture while working. Great looks, good comfort and excellent value for money.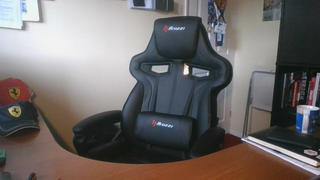 11/06/2020
Jelle B.
BE
Amazing chair!
This chair is amazing! Whether you use it for gaming, studying, office work -> this chair does it al. The quality looks great and the lumbar support pillow is great aswell. I am 1m82 tall and the chair fits perfectly.