VERONA XL+
€ 319.00
Includes 63.8 € tax
The Largest Version of the verona series. A spacious & sturdy chair with a high weight capacity.
Description
Heavy Duty
With Arozzi's variety of chair choices, the Verona XL+ joins the Torretta XL & Vernazza in the Extra-Large chair class giving you even more options to the style & functions that You want.
Features
Extra sturdy materials like a firmer seat for long time usage
Extra spacious seat and backrest
Steep recline going back up to 165°
Pro Locking Mechanism that can tilt the seat back and be locked in place
Tough metal frame supporting up to 160kg/ 352 lbs.
Specifications
Specifications
Weight Capacity
160 kg
352 lbs
Netto Weight
25.5 kg
56.2 lbs
Gross Weight
30 kg
66.1 lbs
Box Dimension
84 x 75 x 32 cm
33.1 x 29.5 x 12.6 inches
Seat foam density
55-65 kg/m³
Backrest foam density
18 kg/m³
Backrest maximum tilt angle
165 degrees
Measurements
Spacious Fit
Being in the Extra-Large chair class the Verona XL+ adds 4cm of Extra width & 2cm height compared to the original Verona V2 chair.
Solid Frame & Base
The Verona XL+ is not only more spacious, it is also has more solid materials. The metal frame is even more sturdy given the chair extra durability. To add to that, the 5-star base is a sturdy aluminum with a unique style.
Adjustable Armrests
The Armrests are 1-dimensional adjustable moving up and down with an easy push of a button. The tops are padded giving your forearms and elbows support and comfort while you are working or playing hard during long periods.
Pleather Material
The soft pleather is built to last and is easy to clean. The backrest frame is padded with 18 kg/m³ cutting foam while the seat is 55-65kg/m³ of molded foam.
Ergonomic Design
The Verona XL+ is developed with Arozzi's signature ergonomic design making it easier on your back and posture for longer periods of use. It is equipped with 2 soft adjustable pillows: a lumbar pillow to support your back & a headrest pillow to support your neck and head.
Steep Recline
Working hard and need a rest? Recline the backrest at 4° lockable increments that goes up to 165°. Find the right angle for you that compliments your body and posture.
Rocking function
The chair can be locked in a fixed upright position or can be unlocked to freely tilt back and forth in a rocking motion up to 12°. Use the adjustment wheel to set the desired resistance.
Locking Tilt Function
Like your chair leaned back a few degrees? The locking tilt function allows you to not only rock back the seat & backrest but also lock it in the position that fits you.
See what owners of this product think.
Or do you already own the product? Then why not write your own review!
Customer Reviews
14/05/2020
Sara-Louise P.
SE
VERONA XL+
The chair is really comfy, I bought it because I am forced to work from home, have been using it everyday and no backpai for me anymore ( I am a 1m59 ) it was easy to put together. I ordered it after asking support what would be best for my partner that is 2m04, it is a tiny bit short for him but works perfectly for me :) support is awesome and really helpful. I recommend !
TZ
04/05/2020
Theo Z.
FR
Excellent
A very good and sturdy gaming chair, I needed it for long computer sessions, it's awesome, no back pain, good comfort, I love the rocking chair mode. The spring of the rocking chair can be set to be harder or easier to rock, that good. I have 2 things to say that could be improved, first, the plastics on the lower side could be improved (but it's not too important, because they are here to hide the mecanism only), because they look ok, but are in reality very cheap. Secondly, the lock option when used while leaning back to the maximum of the chair, sometimes unlock and goes from the last notch to the penultimate. Un très bon et solide fauteuil de jeu, j'en avais besoin pour de longues sessions devant mon ordinateur, c'est génial, pas de maux de dos, un bon confort, j'adore le mode rocking chair. Le ressort du mode rocking chair peut être réglé pour que ce soit plus ou moins dure de se balancer, ce qui est top. J'ai 2 choses à dire qui pourraient être améliorées, premièrement, les plastiques sur le côté inférieur pourraient être améliorés (mais ce n'est pas trop important, car ils sont là pour cacher le mécanisme uniquement), parce qu'ils ont l'air correct, mais sont en réalité de faible qualité. Deuxièmement, l'option de verrouillage lorsqu'elle est utilisée en se penchant en arrière au maximum de la chaise, se déverrouille parfois et passe du dernier cran à l'avant-dernier.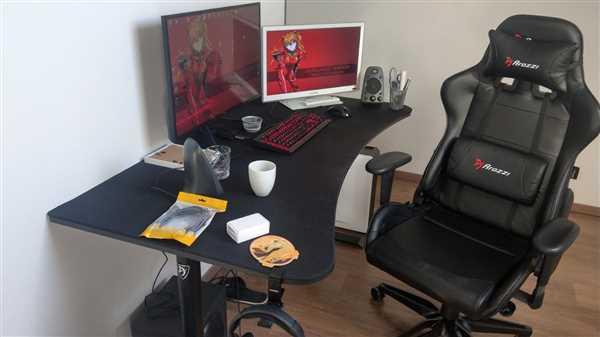 22/04/2020
MARC Z.
FR
02/04/2020
Andrei C.
SE
Fantastic chair
Im a big dude both in height and in weight and this chair is fantastic. The sturdiest one ive ever had, would totally recommend this! 5/5
17/01/2020
Danaey V.
BE
verona XL black
its is good. nice welded frame, good for heavy people, or tall like me. . i just hope that the bottom seat won't tear at the stitches in the future, i will have to find out. ( when your upper legs move forward, you stress the textile a little bit . ) but further, very easy assembly of the seat , piece of cake . perfect 4 me