VERONA V2
€ 259.00
Includes 51.8 € tax
Upgraded intermediate ergonomic chair with even more comfort. Ideal for average size body types.
Description
Improved
The Verona V2 is the revamped version of the Verona ergonomic gaming chair. It is integrated with the most popular chair features & has an upgraded style to make it a popular choice among hardcore gamers.
Features
Upgraded with more seating space and new aesthetics
Recline angle goes up to a steep 165°
Rocking function with adjusted resistance up to 12°
Tough metal frame supporting up to 105kg/ 231 lbs.
Specifications
Specifications
Weight Capacity
105 kg
231 lbs
Netto Weight
22 kg
48.5 lbs
Gross Weight
25.5 kg
56.2 lbs
Box Dimension
86 x 69 x 35 cm
33.9 x 27.2 x 13.8 inches
Seat foam density
40-45 kg/m³
Backrest foam density
25 kg/m³
Backrest maximum tilt angle
165 degrees
Measurements
Ergonomic Design
The Verona Pro V2 is developed with Arozzi's signature ergonomic design making it easier on your back and posture for longer periods of use. It is equipped with 2 soft adjustable pillows: a lumbar pillow to support your back & a headrest pillow to support your neck and head.
Steep Recline
Working hard and need a rest? Recline the backrest at 4° lockable increments that goes up to 165°. Find the right angle for you that compliments your body and posture.
Rocking Function
The chair can be locked in a fixed upright position or can be unlocked to freely tilt back and forth in a rocking motion up to 12°. Use the adjustment wheel to set the desired resistance.
Pleather Material
The soft pleather is built to last and is easy to clean. The metal frame is padded with a snug foam that has a density of 45 kg/m³ for the seat and 25 kg/m³ for the backrest.
Adjustable Armrests
The Armrests are 1-dimensional adjustable moving up and down with an easy push of a button. The tops are padded giving your forearms and elbows support and comfort while you are working or playing hard during long periods.
See what owners of this product think.
Or do you already own the product? Then why not write your own review!
Customer Reviews
05/07/2020
Alberto R.
PT
Best birthday gift
I bought this chair as a birthday gift to my son, which was having a backpain from sitting too much on a normal chair, playing online games (damn Covid!). This chair was all he could ever have asked for: easy to assemble, very comfortable and with that cool look, which matched perfectly the color motif of his room (gray), since I could only find black, red or blue gaming chairs in the stores. It's a great product that I highly recommend.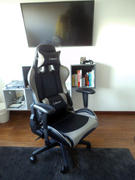 05/05/2020
Panagiotis V.
GR
Comfortable
Easy to assemble
28/04/2020
Natascha G.
IE
Everything with this purchase was great! From the delivery to the chair itself!
Chair got delivered early. It was promised by Monday, but came by Saturday and really made my weekend. Because the screws were pre-assembled, it was really easy to put the chair together. It is a very comfortable chair (especially with the two adjustable cushions) and the color looks really nice. I'm using it for a few weeks now and so far I've no regrets and would recommend to buy at Arozzi again!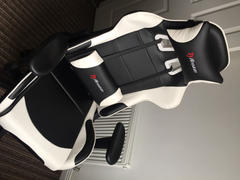 20/04/2020
Gabriele L.
United Kingdom
Love the Arozzi's Support
This Gaming chair is great. It helps me keep my back up & its very comfy. The chair is built like a tank and its easy to set up. If you ever have a problem with the chair, just message arozzi. They respond as fast as they posibly can and are willing to help you. Its definitely worth £225.
12/03/2020
Alex M.
SK
Arozzi Verona V2
Nice and comfy. Pillows are great and it is highly adjustable.