Verona Signature Soft Fabric
€ 359.00
Includes 71.8 € tax
Upgraded version of the Verona gaming chair with 4D armrests, metal base and cold molded foam.
Custom Signature Soft Fabric
It's now possible to personalize this chair with your own custom embroidered text. Click here to start!
Description
New and Improved
The Verona Signature Soft Fabric™ is the upgraded version of the Verona gaming chair! Keeping the ergonomics and popular chair features, the Verona Signature Soft Fabric™ chair has replaced its automobile grade PU leather with durable premium upholstery fabric. The soft fabric™ is a nice alternative to the PU leather and helps improve the breathability of the chair and is very soft to the touch.
Features
Soft yet durable furniture fabric
Cold molded foam for long-term comfort
Soft neck & lumbar support pillows
Tough metal frame supporting up to 130kg/ 290 lbs
Sturdy metal frame and metal wheel base
Pro locking tilt mechanism & 4D armrests.
Specifications
Specifications
Weight Capacity
130kg
290lbs
Netto Weight
24 kg
53 lbs
Gross Weight
28 kg
62 lbs
Box Dimension
87 x 71 x 32 cm
34.3 x 28 x 12.6 inches
Seat foam density
60 kg/m³
Backrest foam density
60 kg/m³
Backrest maximum tilt angle
165 degrees
Measurements
Ergonomic Design
The Verona Signature Soft Fabric™ is developed with Arozzi's signature ergonomic design, making it easier on your back and posture for longer periods of use. The chair comes equipped with 2 soft adjustable pillows: a lumbar pillow to support your back & a headrest pillow to support your neck and head.
Durable Upholstery Furniture Fabric
The breathable material is designed for the body to stay cool for long term usage so you can stay focused! The durable fabric is also built to last with ISO tested qualities such as tear growth resistance, seam slippage resistance, and tensile strength. Another added benefit of the fabric is how quiet it is, not producing the rubbing noise like in pleather or leather chairs.
4 Dimensional Armrests
The armrests are 4-dimensional adjustable, moving with an easy push of a few buttons. With the increased adjustability, your forearms and elbows get the support and comfort while you are working or playing hard during long periods.
Steep Recline
Working long hours and time for a break? Recline the backrest at 4° lockable increments that goes up to 165°. Find the right angle for you that compliments your body and posture.
Rocking Function
The chair can be locked in a fixed upright position or can be unlocked to freely tilt back and forth in a rocking motion up to 12°. Use the tension adjustment wheel underneath the seat to set the desired resistance.
Locking Tilt Function
Like your chair leaned back a few degrees? The locking tilt function allows you to not only rock back the seat & backrest but also lock it in the position that fits you.
See what owners of this product think.
Or do you already own the product? Then why not write your own review!
Customer Reviews
Write a Review
Ask a Question
02/08/2021
Swendar N.

CH
Amazing!
I never sat better while gaming and working. Excellent produkt. I only wish it was a little bit softer on the sitting area.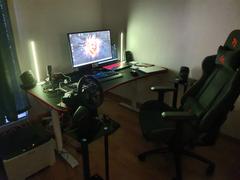 25/05/2021
Carl B.

GB
Fantastic chair Terrible Delivery
The chair is wonderful comfy and beautiful, helped my back tremendously, my only issue through the whole process was UPS they Lied about trying to deliver it multiple times and when it came it was battered and broken box and partially damp... luckily the chair was good though, it was put together with ease very clear instructions. I would truly recommend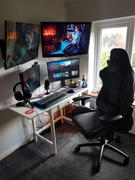 03/05/2021
Jean-Charles N.

FR
The French review
Hi, review of the soft fabric signature. I offer a second one to my father and regret to do not buy earlier...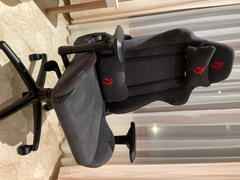 21/04/2021
Phantox

Latvia
Great chair
I love it when i changed to this chare. i only don't use the back resting pillow, a bit hard and not comfy for me. But love it. A bit hard for sitting for more then 8h since working from home. But i don't feel any fatigue on my body after i get up. For the price its worth it. Con: Only gripe for me is now that arm rests ar really wobbly. And sometimes it can start irritate you.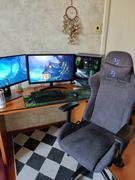 12/03/2021
Vjaceslavs

Latvia
Best.
Best chair I ever had. I am not a gamer, take this chair into my office, just because it is comfy and tons of different positions are available. Very touch pleasant material. So far so good =) RU review: Господа! Отличное кресло, я в свою очередь не геймер, но взял себе в офис. Удобное, много позиций, которые можно зафиксировать. Подушечки отличные для шеи и поясницы. Моя спина говорит - спасибо. Рекомендую