Verona Signature Soft Fabric
€ 329.00
Includes 65.8 € tax
Upgraded version of the Verona gaming chair with 4D armrests, metal base and cold molded foam.
It's now possible to personalize this chair with your own custom embroidered text. Click here to start!
Description
New and Improved
The Verona Signature Soft Fabric™ is the upgraded version of the Verona gaming chair! Keeping the ergonomics and popular chair features, the Verona Signature Soft Fabric™ chair has replaced its automobile grade PU leather with durable premium upholstery fabric. The soft fabric™ is a nice alternative to the PU leather and helps improve the breathability of the chair and is very soft to the touch.
Features
Soft yet durable furniture fabric
Cold molded foam for long-term comfort
Soft neck & lumbar support pillows
Tough metal frame supporting up to 130kg/ 290 lbs
Sturdy metal frame and metal wheel base
Pro locking tilt mechanism & 4D armrests.
Specifications
Specifications
Weight Capacity
130kg
290lbs
Netto Weight
24 kg
53 lbs
Gross Weight
28 kg
62 lbs
Box Dimension
87 x 71 x 32 cm
34.3 x 28 x 12.6 inches
Seat foam density
60 kg/m³
Backrest foam density
60 kg/m³
Backrest maximum tilt angle
165 degrees
Measurements
Ergonomic Design
The Verona Signature Soft Fabric™ is developed with Arozzi's signature ergonomic design, making it easier on your back and posture for longer periods of use. The chair comes equipped with 2 soft adjustable pillows: a lumbar pillow to support your back & a headrest pillow to support your neck and head.
Durable Upholstery Furniture Fabric
The breathable material is designed for the body to stay cool for long term usage so you can stay focused! The durable fabric is also built to last with ISO tested qualities such as tear growth resistance, seam slippage resistance, and tensile strength. Another added benefit of the fabric is how quiet it is, not producing the rubbing noise like in pleather or leather chairs.
4 Dimensional Armrests
The armrests are 4-dimensional adjustable, moving with an easy push of a few buttons. With the increased adjustability, your forearms and elbows get the support and comfort while you are working or playing hard during long periods.
Steep Recline
Working long hours and time for a break? Recline the backrest at 4° lockable increments that goes up to 165°. Find the right angle for you that compliments your body and posture.
Rocking Function
The chair can be locked in a fixed upright position or can be unlocked to freely tilt back and forth in a rocking motion up to 12°. Use the tension adjustment wheel underneath the seat to set the desired resistance.
Locking Tilt Function
Like your chair leaned back a few degrees? The locking tilt function allows you to not only rock back the seat & backrest but also lock it in the position that fits you.
See what owners of this product think.
Or do you already own the product? Then why not write your own review!
Customer Reviews
23/11/2020
Ville V.
Finland
Comfortable but similar gaming chair quality issues as previous chairs
I've had this chair for exactly 3 months and here's few points I've noticed Pros: Fairly comfortable. Supports my back well. Arm rests are a little bit soft, but texture material seems to be durable Cons: Chair started squeaking noises after about 3 to 4 weeks. This is quite annoying and I've had similar issues with previous DXRacer chair. Arm rests are quite wobbly and cause rambling noise
20/11/2020
Tobias H.
DE
Quality Build and a comfort harder seat
The chair got a quiet well build quality and a really good look. The seat comfort is well over hours but only without the neck pillow. It is that hard that I am getting headaches when I use it for a to long time. But the overall experience is a 2+ especially compared to the higher priced brands.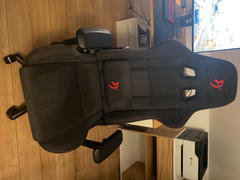 08/11/2020
Peter L.
DE
02/11/2020
Jeroen K.
NL
Fantastic
I used another Arozzi chair for almost 5 years before upgrading to this one. Assembly was incredibly easy. The chair itself is really comfortable. I did remove the lower back support, that would start hurting my back after an hour or so. The chair feels extremely solid. I'm a big guy and after 10 minutes in this chair I trusted it more that my previous one after 5 years. It's an expensive chair but definitely worth it. The fabric is also better then the fake leather as this breaths more, so you don't stick to the chair in the summer, and it's silent. Shipping was excellent as well. I ordered the chair on a Wednesday. Litteraly within a couple of minutes after ordering I received the shipping number. Thursday it was in transit and Friday I received it. I definitely would order here again.
03/09/2020
Manuel I.
IT
Amazing Chair
Well guys, this is one of the best chair i've ever used in my life! Super recommended!