VERONA JUNIOR
€ 219.00
Includes 43.8 € tax
The smallest version of the Verona series. An ergonomic chair for children or smaller body types.
Description
Smallest Sized Chair
Whether you are a young up and coming professional gamer or just have a petite body type the Verona Jr is the smallest version of the Verona V2 family and the smallest Arozzi chair.
Features
Smaller size chair for children or smaller body types
Easy to clean pleather material
Ergonomic design with multiple adjustable features
Built with a tough metal frame for long lasting use
2-dimensional adjustable armrests
Steep recline angle
Tough metal frame supporting up to 60kg/ 132 lbs.
Specifications
Specifications
Weight Capacity
60 kg
132.3 lbs
Netto Weight
18 kg
39.7 lbs
Gross Weight
22 kg
48.5 lbs
Box Dimension
76 x 65 x 32 cm
28.7 x 25.6 x 12.6 inches
Seat foam density
40-45 kg/m³
Backrest foam density
25 kg/m³
Backrest maximum tilt angle
165 degrees
Measurements
Ergonomic Design
The chair is ergonomically designed for a healthy posture. It has multidimensional adjustable armrests and two adjustable supportive pillows for the neck & lower back.
Multidimensional Armrests
The padded armrests are 2-Dimensional with the option of moving them up and down plus rotating them in and out to find your desired position.
Easy Clean Pleather
The soft quality pleather is not only made to enhance comfort but also to last with easy cleaning. Compared to fabric chairs, the pleather material can be cleaned using warm water & a cloth.
Steep Recline
Working hard and need a rest? Recline the backrest at 4° lockable increments that goes up to 165°. Find the right angle for you that compliments your body and posture.
Rocking Function
The chair can be locked in a fixed upright position or can be unlocked to freely tilt back and forth in a rocking motion up to 12°. Use the adjustment wheel to set the desired resistance.
See what owners of this product think.
Or do you already own the product? Then why not write your own review!
Customer Reviews
14/09/2020
Patrik K.
SI
Perfect
Top product, fast service!
04/08/2020
Vanessa M.
GB
Brilliant Chair
Customer support = 100% The chair is of great quality. The gas lift was too low for me tough but I replaced it with one that is 4.5cm higher. I also replaced the arms for 4D arms. I'm an adult with a small body type. So, I got the Junior chair, which is the right size for me, and made some adjustments. The chair is 'almost' perfect. I thing to be perfect, only if made to size. Happy with the purchase.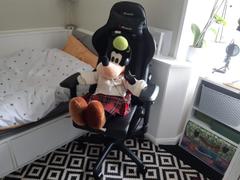 28/05/2020
Ben
Germany
Ein toller Stuhl für Kinder oder auch für kleine Erwachsene
Er kam schnell an trotz Corona. der aufbau war Kinderleicht, hat nur 15 min gedauert hat auch alles super gepasst. Da ich sehr klein bin für mein alter nur knapp 1,50m musst ich lange nach einem passendem Stuhl suchen. Dann bin ich per Zufall auf diesen Stuhl gestoßen. Als ich mich dann das erste mal rein gesetzt habe, war ich einfach nur glücklich den er hat gepasst. Von der Sitzhöhe, Sitztiefe und auch von der Rückenlehnen Höhe super, auch meine Füße kommen wunderbar auf den aber der Stuhl ist auf der niedrigsten Stufe. Die Sitzfläche ist etwas härter mich persönlich stört es aber nicht. Jetzt bin ich mal gespannt ob er sich mit der Zeit durch setzt oder nicht.
13/05/2020
Oliver C.
AT
My Kids love them, great quality!
Very fast delivery, amazing quality and great size for kids and juniors. I have bought 2 of them, one for my 7 years old and another one for my 10years old. Both fit perfect.
22/04/2020
Mark G.
GB
Mark Gardiner
My son loves the chair!! Ideal size