VERNAZZA SOFT FABRIC
€ 359.00
Includes 71.8 € tax
Top-tier Furniture Fabric chair with various high-level features like 3D armrests & a pro mechanism.
Description
Like a Comfy Couch
The Vernazza Soft Fabric design is from Arozzi's top rated Vernazza chair but with a soft yet durable fabric used on quality furniture. The breathable material is exceptionally pleasing to sit in and at the same time keeping you cool for long term use. The wheel base also got an upgrade to an aesthetically pleasing aluminium metal with a matte black finish and the gas lift got additional height added to seat height ideal for taller body types.
Features
Soft yet durable furniture fabric
Soft neck & lumbar support pillows
Adjustable height gas spring that supports up to 145kg/ 320 lbs
Large and spacious seat and backrest
Sturdy metal frame and aluminium wheel base
Pro locking tilt mechanism & 3D armrests.
Large premium casters
Specifications
Specifications
Weight Capacity
145 kg
320 lbs
Netto Weight
26 kg
57 lbs
Gross Weight
28.5 kg
62 lbs
Box Dimension
86 x 69 x 35 cm
33.9 x 27.2 x 13.8 inches
Seat foam density
70 kg/m³
Backrest foam density
65 kg/m³
Backrest maximum tilt angle
165 degrees
Material
Fabric Upholstery
Measurements
Durable Furniture Fabric
The breathable material is designed for the body to stay cool for long term usage so you can stay focused. The durable fabric is also built to last with ISO tested qualities such as tear growth resistance, seam slippage resistance, and tensile strength. Another surprisingly pleasant feature of the fabric is how quiet it is, not producing the rubbing noise like in pleather or leather chairs.
Ergonomic Design
The Vernazza Soft Fabric is developed with Arozzi's signature ergonomic design making it easier on your back and posture for longer periods of use. It is equipped with 2 soft adjustable pillows: a lumbar pillow to support your back & a headrest pillow to support your neck and head.
Multidimensional Armrests
The padded armrests are not only able move up & down. They can slide forwards & backwards, and rotate in & out. For those who want to find the best position for the armrests this 3-dimensional style is our most alterable.
Go Big
The Vernazza Soft Fabric is one of Arozzi's bigger chairs with a weight capacity of 145kg (320 lbs.) and a spacious hugging backrest. The gas lift has additional height added to it making it one of Arozzi's highest raising seats. It also has an extra tall seat ideal for those who are big & tall or just enjoy the extra space.
Steep Recline
Working hard and need a rest? Recline the backrest at 4° lockable increments that goes up to 165°. Find the right angle for you that compliments your body and posture.
Rocking Function
The chair can be locked in a fixed upright position or can be unlocked to freely tilt back and forth in a rocking motion up to 12°. Use the adjustment wheel to set the desired resistance.
Locking Tilt Function
Like your chair leaned back a few degrees? The locking tilt function allows you to not only rock back the seat & backrest but also lock it in the position that fits you.
See what owners of this product think.
Or do you already own the product? Then why not write your own review!
Customer Reviews
20/05/2020
Lillian M.
DK
Amazing
Chair is near perfect. you sit great in it, I'm a lager guy 110kgs 185cm and it's supports really well and feels super stable to sit in. the base in nice a large you dont feel cramped at all. arm rest are a bit wobbly but it's really a minor detail
18/05/2020
jonathan a.
GB
honest review
Left my review a while to get some good use out of it now i can now give my honest opinion the chairs are great build quality is really strong ive been wanting a chair for a while didnt know what style or even make to go for if i knew then what i know now i would of had one of these Arozzi chairs ages ago its must buy if you looking for a large comfy gaming chair these are perfect
16/05/2020
Janko B.
Germany
Ist jeden Cent wert!!!
Habe Jahrelang Stühle gehabt wo die Qualität einfach nur scheiße war, und habe mir auch selber gesagt so viel Geld gebe ich nicht aus für einen Stuhl aber ich muss echt sagen dieser Stuhl ist jeden Cent wert einfach nur bequem und man will am liebsten garnicht mehr aufstehen (Meine Meinung). Die Verarbeitung und das Design ist einfach top bin sehr sehr zufrieden und kann ihn auf jeden Fall weiter empfehlen.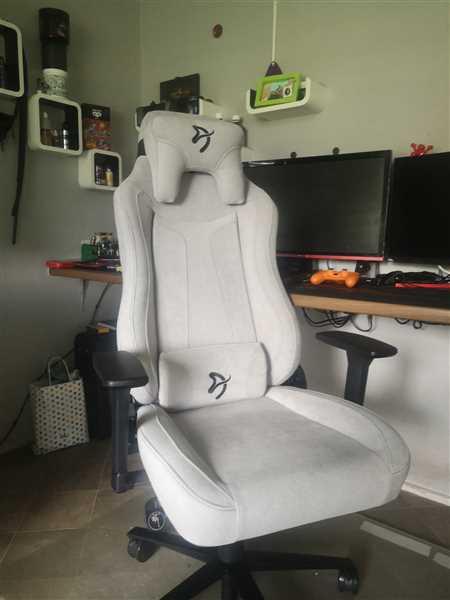 13/05/2020
Martien W.
NL
I thought it was softer material
I love it i would recommend to others and i already did!! Only -point is that i thought it was softer than normal
20/04/2020
Krzysztof B.
PL
Almost excellent chair
I waited almost half a year to describe my experience well. The chair is very comfortable. The seat is really big. Ideal for people with a little bit more weight. I think it's the most comfortable chair I've ever sat on. I don't see any dents or scratches despite of the fact, that this is my daily chair. I'm only annoyed with the armrests. There is no locking mechanism, so I can often turn them by accident. Generally, I recommend it. It is a pity that there is no version with a smaller seat (for my wife, this chair is too big).