MILANO
€ 179.00
Includes 35.8 € tax
Entry Level Gaming Chair with thick padded armrests and a supportive pillow for your lower back.
Description
Getting the Job Done
The Milano is one of Arozzi more fundamental chairs that incorporates all the essentials of an office chair so you can work or play in long hours of supportive comfort.
Features
Extra Padded Armrests
Two support pillows for the neck and back
Light construction for easy movement
Pleather material for easy cleaning
Tilting seat that can lock in upright position
Adjustable height gas spring that supports up to 95kg/ 190lbs.
Specifications
Specifications
Weight Capacity
95 kg
190 lbs
Netto Weight
17.2 kg
38 lbs
Gross Weight
20.5 kg
45 lbs
Box Dimension
86 x 65 x 32 cm
32.7 x 25.6 x 12.6 inches
Seat foam density
50 kg/m³
Backrest foam density
40 kg/m³
Measurements
Supportive Pillow
The lumbar pillow is adjustable to fit the user. Simply pull the straps up or down to find the right position of the pillow to fit your desired position.
Thick Padded Armrests
The armrests have extra padding for soft support to your forearms and elbows when you are relaxing or working hard. The padding is also covered in the soft pleather for easy clean-up.
Rocking Function
The chair can be locked in a fixed upright position or can be unlocked to freely tilt back and forth in a rocking motion. This is ideal for those are sitting for long hours and want a little free motion or just enjoy the rocking sensation.
Pleather Material
The soft pleather is built to last and is easy to clean. The Milano frame is padded with a pliant foam that has density of 50 kg/m³ for the seat and 40 kg/m³ for the backrest so you can sink into the seat in comfort.
See what owners of this product think.
Or do you already own the product? Then why not write your own review!
Customer Reviews
12/07/2020
charlie d.
IE
Great Chair 🪑
It's really comfy and and it's great for long time gaming my only complaint is that my left armrest cushion was very soft from the inside and my ocd was going mad
07/07/2020
Maria K.
IT
Great chair
Conftable chair also for smaller people. love the padded armrests. Quick and easy to asseble, all seams are done well, no reclamation whatsoever at this point. Only the smell is quite pungent for the first week,.
03/07/2020
Alexandru-Gabriel R.
RO
Second chair was really good
I had issues with the first chair and I gave Arozzi another shot using an offer provided by them and I was very happy with the second chair, all the issues from the first one were gone. I stand by what I wrote in my other review, the chair is really good and comfortable, it's solid and providing an awesome experience, especially when you sit more than a couple of hours. No back pain, you sit straight and comfy, the lombar pillow is good too, totally recommend! Thanks again to the Arozzi support for responding fast and offering a fair option for my initial issues :). 10/10
11/06/2020
Christopher S.
GB
Comfort and Style
I am very pleased with the chair. I use it in my home office where I sit for up to 10 hours a day so comfort is a must. The adjustable lumbar cushion is superb and I think the chair has improved my overall posture while working. Great looks, good comfort and excellent value for money.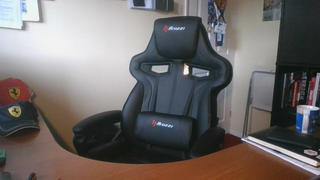 11/06/2020
Jelle B.
BE
Amazing chair!
This chair is amazing! Whether you use it for gaming, studying, office work -> this chair does it al. The quality looks great and the lumbar support pillow is great aswell. I am 1m82 tall and the chair fits perfectly.