MEZZO V2
€ 269.00
Includes 53.8 € tax
Upgraded intermediate ergonomic chair with new aesthetics & more soft foam for extra comfort.
Description
New and Improved
Mezzo V2 is the revamped version of the Mezzo chair series. It has an upgraded look, is more spacious, and has extra padding material.
Features
Cold molded foam for extra comfort
Upgraded design with more space
Steep recline going back 165°
Rocking function that tilts the seat and back rest up to 12°
Tough metal frame supporting up to 120kg/ 265 lbs.
Specifications
Specifications
Weight Capacity
120 kg
265 lbs
Netto Weight
23 kg
50.7 lbs
Gross Weight
27 kg
59.5 lbs
Box Dimension
86 x 69 x 35 cm
33.9 x 27.2 x 13.8 inches
Seat foam density
70 kg/m³
Backrest foam density
65 kg/m³
Backrest maximum tilt angle
165 degrees
Measurements
Pleather Material & Molded Foam
The soft pleather is built to last and is easy to clean. The frame is padded with a snug foam that has a density of 70 kg/m³ for the seat and 65 kg/m³ for the backrest. The molded foam adds extra padding to the chair providing more cushioned support to the user.
Ergonomic design
The Mezzo V2 is developed with Arozzi's signature ergonomic design making it easier on your back and posture for longer periods of use. It is equipped with 2 soft adjustable pillows: a lumbar pillow to support your back & a headrest pillow to support your neck and head.
Adjustable Armrests
The Armrests are 1-dimensional adjustable moving up and down with an easy push of a button. The tops are padded giving your forearms and elbows support and comfort while you are working or playing hard during long periods.
Steep Recline
Working hard and need a rest? Recline the backrest at 4° lockable increments that goes up to 165°. Find the right angle for you that compliments your body and posture.
Rocking Function
The chair can be rocked back and forth up to 12°. Use the adjustment wheel to set the desired resistance.
See what owners of this product think.
Or do you already own the product? Then why not write your own review!
Customer Reviews
27/03/2020
Oana V.
RO
Overall: Great chair!
I had before an Arozzi Enzo for a couple of years, useful,nice great, but it was not 100% comfortable as I am a small person (1.57m). So I switched to Arozzi Mezzo V2 which I could say, it is very comfortable, I could adjust the backrest, and the lombar and neck pillows are a plus for a better position. I am already using it for almost 2 weeks, 14 hours per day and I am very happy with it. The construction of it is pretty solid and good, but the only thing that I do not like, due to cheap plastic look is the 5star wheel support. Otherwise, I would recommend it!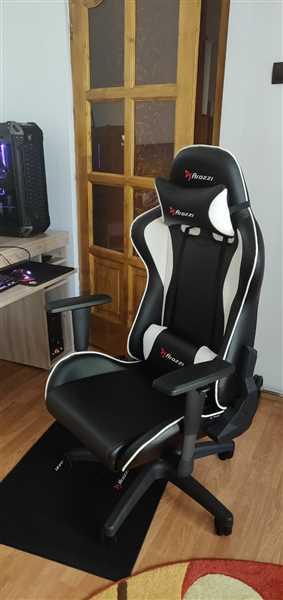 Pretty OK so far...
Assemblyng everything was pretty easy. I am just wondering if the height really is that low to expand...
26/06/2019
Demetris P.
CY
Absolutely worth it!
That's the best product bought by far...
Très satisfait
Chaise super confortable pour un prix totalement fabuleux. Livraison depuis la suède extrêmement rapide je recommande 1000 fois toute mes chaises vont être acheter las bas c'est sur. !!!
Great chair!
Good quality and comfortable chair, this is my third gamingchair and Arozzi have been the best so far