MEZZO V2 FABRIC
€ 299.00
Includes 59.8 € tax
Breathable Fabric Version of the Mezzo V2 with new aesthetics and extra soft foam for max comfort.
Description
Upgraded Fabric Edition
Mezzo V2 Fabric is the revamped version of the Mezzo chair series with breathable fabric instead of pleather. It has an upgraded look, is more spacious, and has extra padding material.
Features
Breathable fabric to keep you cool
Cold molded foam for extra comfort
Upgraded design with more space
Steep recline going back 165°
Rocking function that tilts the seat and backrest up to 12°
Tough metal frame supporting up to 120kg/ 265 lbs.
Specifications
Specifications
Weight Capacity
120 kg
265 lbs
Netto Weight
23kg
50.7 lbs
Gross Weight
27kg
59.5 lbs
Box Dimension
86 x 69 x 35 cm
33.9 x 27.2 x 13.8 inches
Seat foam density
70 kg/m³
Backrest foam density
65 kg/m³
Backrest maximum tilt angle
165 degrees
Measurements
Breathable fabric
The Mezzo V2 Fabric is a refreshing fabric chair that is breathable so you keep cool when it gets warm. The soft padded chair covering the metal frame will ensure your comfort for when you are sitting for long periods of time.
Cold Molded Foam
The frame is padded with a snug foam that has a density of 70 kg/m³ for the seat and 65 kg/m³ for the backrest. The molded foam adds extra padding to the chair providing more cushioned support to the user.
Ergonomic design
The Mezzo V2 is developed with Arozzi's signature ergonomic design making it easier on your back and posture for longer periods of use. It is equipped with 2 soft adjustable pillows: a lumbar pillow to support your back & a headrest pillow to support your neck and head.
Adjustable armrests
The Armrests are 1-dimensional adjustable moving up and down with an easy push of a button. The tops are padded giving your forearms and elbows support and comfort while you are working or playing hard during long periods.
Steep Recline
Working hard and need a rest? Recline the backrest at 4° lockable increments that goes up to 165°. Find the right angle for you that compliments your body and posture.
Rocking Function
The chair can be rocked back and forth up to 12°. Use the adjustment wheel to set the desired resistance.
See what owners of this product think.
Or do you already own the product? Then why not write your own review!
Customer Reviews
Write a Review
Ask a Question
22/04/2021
Slice67

CZ
First feeling
When i first sat on it it was really comfy, im almost 190 cm high and it fits perfectly. Definetely better than some fake leather and that stuff. Seat is really comfortable, not hard, its soft enough. When you are going to sit from "height" it does not hurt your butt :D The pillows are adjustable and also soft. Easy assembly, dont need any extra tools. Good packaging. Armrest pads are adjustable and comfy as well. Thanks to POSTY i got 10% off the price. I really recommend getting this chair :)
25/02/2021
bidddo

Italy
Very comfortable chair - Sedia molto confortevole e robusta.
I chose the breathable type to fight the summer heat. Wide range and possibility of adjustments. Assembly is simple and the necessary key is also provided. Thanks to the courtesy of Mr. Gustav, I purchased an additional lumbar pillow to make the padded armrests for maximum comfort (see photo). Ho scelto il tipo traspirante per combattere il caldo estivo. Ampia possibilità di regolazioni. Il montaggio è semplice e viene fornita anche la chiave necessaria. Grazie alla cortesia del signor Gustav, ho acquistato un ulteriore cuscino lombare per realizzare i braccioli imbottiti per il massimo confort (vedi foto).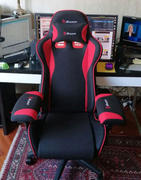 04/01/2021
Valeria B.

IT
Very good chair
Chair arrived on time and very confortable
02/10/2020
Pierantonio A.

IT
Mezza 2
Well, but the metal base would have been more solid and durable
29/07/2020
elodje e.

IT
a must to have it
my experience was very good perfect package and easy to prepare wonderful chair i strictly raccomend it customer support ? very good