INIZIO
€ 199.00
Includes 39.8 € tax
A breathable fabric chair to keep you cool & comfortable. An entry level chair with all the essentials.
Description
More Than Basic
The Inizio is one of Arozzi's entry level chairs that incorporates the breathable fabric, the popular 2-dimensional armrests, and two soft support pillows for your neck and back.
Features
Breathable fabric to keep you cool
2-Dimensional armrests
Rocking function that tilts the seat and backrest up to 12°
Tough metal frame that supports up to 105kg/ 231 lbs.
Specifications
Specifications
Weight Capacity
105 kg
231.5 lbs
Netto Weight
22 kg
45.8 lbs
Gross Weight
24.5 kg
54 lbs
Box Dimension
85 x 65 x 34 cm
33.5 x 25.6 x 13.4 inches
Seat foam density
35 kg/m³
Backrest foam density
30 kg/m³
Backrest maximum tilt angle
145 degrees
Measurements
Breathable Fabric
The Inizio is a refreshing fabric chair that is breathable so you keep cool and refreshed. The soft padded chair covering the metal frame will ensure your comfort for when you are sitting for long periods of time.
Multidimensional Armrests
The padded armrests are 2-Dimensional with the option of moving them up and down plus rotating them in and out to find your desired position.
Ergonomic Design
The Inizio series is developed with Arozzi's signature ergonomic design making it easier on your back and posture for longer periods of use. It is equipped with 2 soft support pillows: a lumbar pillow for your back and a headrest pillow to support your neck and head.
Steep Recline
Working hard and need a rest? Recline the backrest at 4° lockable increments that goes up to 145°. Find the right angle for you that compliments your body and posture.
Rocking Function
The chair can be locked in a fixed upright position or can be unlocked to freely tilt back and forth in a rocking motion up to 12°. Use the adjustment wheel to set the desired resistance.
See what owners of this product think.
Or do you already own the product? Then why not write your own review!
Customer Reviews
13/11/2020
Marta M.
IT
Sedia fantastica e servizio eccellente!
La sedia è arrivata prima del previsto, facile da montare, tessuti ottimi, soprattutto per me che ho dei gatti. Lavoro 8 ore al giorno e quindi avevo bisogno di una sedia comoda ed ergonomica, la Arozzi INIZIO è perfetta per la mia situazione
11/11/2020
Lorenzo P.
IT
Best ratio quality price
Easy to assemble
29/10/2020
Daniele .
Italy
Consegna
Ciao c'è qualche italiano? Io ieri ho ordinato una sedia Mi è arrivata la fattura di pagamento perfetto Come faccio sapere quando arriva e quando sta per arrivare? Quanto ci vuole? Mi arriva un altra email? Spero che qualcuno mi risponda grazie mille 😊
17/10/2020
Galina E.
IE
Great value gaming chair great service.
The delivery was very quick to Ireland only 4 business days. When this chair first arrived I was amazed at how good it looked. When I started assembling this chair I found one of the screws to be faulty and stuck in the backrest I contacted customer services they sent me a new backrest , the new backrest came very quick same as the delivery. The rest of the assembly was quick and easy. Now that I´ve used this chair for a day I will say it is very comfy and looks good. The final verdict is that this is a high quality chair for a reasonable price and Arozzi has great customer service.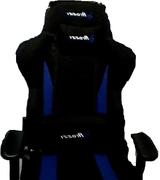 11/07/2020
Marco B.
IT
PROFESSIONAL AND STYLISH CHAIR FOR WORKING, GAMING OR RELAXING
A comfy and fully adjustable chair suitable also for short people like me (170 cm). After adjusting can be used for working, gaming or even relazing after bending it. The design is very stylish, professional for working and at the same time cool for gaming. The only con is back and neck pillows could have been softer.