GAMING CHAIR – STAR TREK EDITION
€ 319.00
Includes 63.8 € tax
The Star Trek ™ Special Edition chair modeled after the Verona Pro V2 with a sturdy & spacious design.
Description
High End
The Special Edition Star Trek gaming chair, the Arozzi made gaming style chair based off the Verona Pro V2. Developed with Arozzi's signature ergonomic features like the two supportive pillows for your lower back and neck, adjustable armrests, rocking function, pro-locking mechanism, and a steep 165° recline angle. The sturdy metal frame is padded with a snug foam and is covered by soft durable pleather that is easy to clean.
Features
Upgraded design that has more space and new aesthetics
Steep recline going back up to 165°
Pro locking mechanism that can tilt the seat back and be locked in place
Large premium casters for easy movement
Rocking function with adjusted resistance
Tough metal frame supporting up to 130kg/ 290 lbs.
Specifications
Specifications
Weight Capacity
130 kg
290 lbs
Netto Weight
22 kg
48.5 lbs
Gross Weight
25.5 kg
56.2 lbs
Box Dimension
86 x 69 x 35 cm
33.9 x 27.2 x 13.8 inches
Seat foam density
40-45 kg/m³
Backrest foam density
25 kg/m³
Backrest maximum tilt angle
165 degrees
Measurements
Ergonomic Design
The Verona Pro V2 is developed with Arozzi's signature ergonomic design making it easier on your back and posture for longer periods of use. It is equipped with 2 soft adjustable pillows: a lumbar pillow to support your back & a headrest pillow to support your neck and head.
Adjustable Armrest
The Armrests are 1-dimensional adjustable moving up and down with an easy push of a button. The tops are padded giving your forearms and elbows support and comfort while you are working or playing hard during long periods.
Steep Recline
Working hard and need a rest? Recline the backrest at 4° lockable increments that goes up to 165°. Find the right angle for you that compliments your body and posture.
Rocking Function
The chair can be locked in a fixed upright position or can be unlocked to freely tilt back and forth in a rocking motion up to 12°. Use the adjustment wheel to set the desired resistance.
Locking Tilt Function
Like your chair leaned back a few degrees? The locking tilt function allows you to not only rock back the seat & backrest but also lock it in the position that fits you.
Pleather Material
The soft pleather is built to last and is easy to clean. The metal frame is padded with a snug foam that has a density of 45 kg/m³ for the seat and 25 kg/m³ for the backrest.
See what owners of this product think.
Or do you already own the product? Then why not write your own review!
Customer Reviews
25/06/2020
ANDY M.
GB
FANTASTIC CHAIR
STILL EXPERIENCING
08/06/2020
Andrei B.
FI
Excellent chair
After week of usage back pain almost disappeared
17/03/2020
IAIN B.
GB
30/07/2019
Lars C.
DK
Excellent Service and Lovely Star Trek Chair!
Arozzi had an excellent service and it only took them two working days to send my new gorgeous Star Trek chair to Denmark! The chair itself is comfortable, sturdy, well made and the Star Trek stitchings are very well done! The overall quality of the chair is top not, except for one thing(look below). Only two downsides. The plastic bits to hide the assembly of the seat and the back rest are too cheap and wobbly. I would have expected better at this price tag. - This is the only reason my review gets 4/5 and not 5/5. The chair is actually quite hard to sit in. Keep this in mind before if you are used to soft chairs.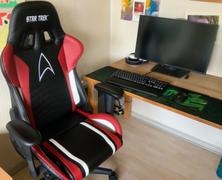 Lovely
Comfortable, easy to assemble and also looks great Love the Star Trek theme!