ENZO WOVEN FABRIC
€ 199.00
Includes 39.8 € tax
Affordable entry level chair with high quality furniture fabric upholstery for max comfort.
Description
Getting the Job Done
The new and improved Enzo Woven Fabric is the reimagining one of Arozzi's more fundamental chairs. The Enzo incorporates all the essentials of an office chair so you can work or play for long hours with no issue! Based on the original Enzo chair, the Enzo Woven fabric is covered with smooth, high quality upholstery furniture fabric to provide an additional level of comfort and breathability.
Features
Extra Padded Armrests with Woven Fabric Material
Five twin wheel nylon casters
Light construction for easy movement
Woven Fabric Material
Tilting seat that can lock in upright position
Adjustable height gas spring that supports up to 95kg/ 190lbs
Specifications
Specifications
Weight Capacity
95kg
190lbs
Netto Weight
15 kg
33 lbs
Gross Weight
17 kg
37.4 lbs
Box Dimension
79 x 32 x 64 cm
31.1 x 12.6 x 25.2 inches
Seat foam density
30 kg/m³
Backrest foam density
25 kg/m³
Material
Woven Fabric Upholstery
Measurements
Woven Fabric Material
The woven fabric material is a premium quality, upholstery fabric with a soft, smooth finish! The Enzo's frame is padded with a pliant foam that has density of 30 kg/m³ for the seat and 25 kg/m³ for the backrest so you can sink into the seat in comfort while still giving proper ergonomic support for long working or gaming sessions.
Thick Padded Armrests
The armrests have extra padding for soft support to your forearms and elbows when you are relaxing, gaming, or working hard. The padding is also covered in the woven fabric for additional comfort and breathability.
Rocking Function
The chair can be locked in a fixed upright position or can be unlocked to freely tilt back and forth in a rocking motion. This is ideal for those are sitting for long hours and want a little free motion or just enjoy the rocking sensation.
See what owners of this product think.
Or do you already own the product? Then why not write your own review!
Customer Reviews
Write a Review
Ask a Question
03/09/2021
Tobias W.

DE
Very nice
The seat is a little bit harder than that from the leather version and I like that. Also the spring is a lot harder what I absolutely do not like. I already set the spring as soft as it can go but it is still to hard to tilt backwards when leaning on the backrest. My weight ist currently about 65kg and I had no issues on my old Enzo chair.
03/09/2020
Anna P.

LT
A nice chair
Soft and comfortable, lightweight chair supporting lower back quite well. My only complain is that the fabric immediately became a little fuzzy.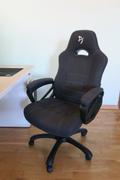 02/09/2020
Michael D.

BE
Lucky find
Was looking for a chair with a not too flashy look and comfortable, quality build. This one checks all marks, and everything arrived well on time, I definitely recommend it! :)