ENZO WOVEN FABRIC
€ 179.00
Include 35.8 € Imposta
Furniture Fabric chair for max comfort with 2 supportive pillows and 3D armrests.
Description
Getting the Job Done
The new and improved Enzo Woven Fabric is the reimagining one of Arozzi's more fundamental chairs. The Enzo incorporates all the essentials of an office chair so you can work or play for long hours with no issue! Based on the original Enzo chair, the Enzo Woven fabric is covered with smooth, high quality upholstery furniture fabric to provide an additional level of comfort and breathability.
Features
Extra Padded Armrests with Woven Fabric Material
Five twin wheel nylon casters
Light construction for easy movement
Woven Fabric Material
Tilting seat that can lock in upright position
Adjustable height gas spring that supports up to 95kg/ 190lbs
Specifications
Specifications
Weight Capacity
95kg
190lbs
Netto Weight
15 kg
33 lbs
Gross Weight
17 kg
37.4 lbs
Box Dimension
79 x 32 x 64 cm
31.1 x 12.6 x 25.2 inches
Seat foam density
30 kg/m³
Backrest foam density
25 kg/m³
Material
Woven Fabric Upholstery
Measurements
Woven Fabric Material
The woven fabric material is a premium quality, upholstery fabric with a soft, smooth finish! The Enzo's frame is padded with a pliant foam that has density of 30 kg/m³ for the seat and 25 kg/m³ for the backrest so you can sink into the seat in comfort while still giving proper ergonomic support for long working or gaming sessions.
Thick Padded Armrests
The armrests have extra padding for soft support to your forearms and elbows when you are relaxing, gaming, or working hard. The padding is also covered in the woven fabric for additional comfort and breathability.
Rocking Function
The chair can be locked in a fixed upright position or can be unlocked to freely tilt back and forth in a rocking motion. This is ideal for those are sitting for long hours and want a little free motion or just enjoy the rocking sensation.
See what owners of this product think.
Or do you already own the product? Then why not write your own review!
Customer Reviews
Write a Review
Ask a Question
04/02/2021
Tommaso B.

IT
Buona sedia
Buona sedia per il prezzo che ho pagato, se non ricordo male attorno ai 153€ usando un codice sconto. Me l'aspettavo vagamente più morbida, l'imbottitura è abbastanza rigida ma è un bene se si hanno problemi di schiena perché sostiene a dovere. Io sono alta 1.71 e tocco giusta sulla fine del poggiatesta col retro della nuca..un ragazzo più alto non so se sarebbe altrettanto comodo, 10cm in più e secondo me si appoggia solo con il collo. Semplice da montare, o almeno il mio ragazzo non aveva visto che c erano le istruzioni (CHE CI SONO, GUARDATE BENE!) ed è riuscito a montarla lo stesso anche senza xD unico difetto è il tessuto della seduta, tende a spiegazzarsi perché c'è troppo tessuto. Per il resto top, bello il modello grigio chiaro, consigliata a chi ha un gatto o comunque ha paura di rovinare le poltrone in similpelle troppo velocemente.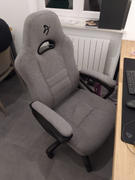 27/01/2021
Pierpaolo B.

IT
Excelent
The chair is really comfortable, it is easy to mount and looks definitely great. It is better looking than many chairs you can find, more comfortable and still not too expensive. It is wide enough for most of people. The quality of the materials is definitely good! I would highly recommend it for anyone who'd want a chair for gaming/working/studying. I spend at least 10h a day on it and I love it. There is just one thing I would change: I'd add a small pillow to put right behind the neck, that would make it perfect